OUR HERITAGE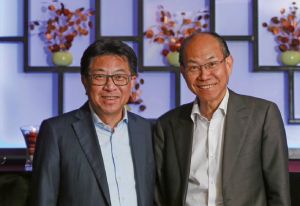 Plaza Foods was founded 30 years ago by the Chang brothers as a subsidiary of Europe's largest complex of Oriental restaurants: Orient Plaza. We are a family-owned company that specializes in Oriental cuisine.
In 2005, we opened our first production facility in Wijchen and in 2016, we opened our new, state-of-the-art facility in Nijmegen, the Netherlands. Here we can implement the art of authentic cooking in a modern production environment that is awarded the highest level certificate of IFS every year. While our facilities are equipped with the newest technologies, some touches, such as stir frying our rice and noodles, are best left to our chefs. Hence, the result is an authentic, handmade meal.
In 2006 we introduced a range of Italian meals as a result of our partnerships with Italian chefs. Our years of experience in both restaurants en and ready meals, combined with our experienced production and development team, have brought us many successes. In fact, nowadays we are the largest producers of authentic ethnic foods in Northern Europe.
MILESTONES
| | |
| --- | --- |
| 1989 | Orient Plaza Food & Services is established in Nijmegen, the Netherlands |
| 1989 | Orient Plaza, Europe's largest Oriental restaurant, opens. |
| 1994 | Launch of Plaza Foods – Enjoy restaurant quality, available at your confortable home |
| 2005 | Our first production facility opens in Wijchen |
| 2006 | Italian range is added as a result of partnerships with Italian chefs |
| 2007 | Expansion to Germany & Belgium |
| 2009 | Expansion to Great Britain & Ireland |
| 2014 | Expansion to Switzerland, Poland & Denmark |
| 2016 | Our brand new state-of-the art production facility has opened |
| 2017 | Expansion to France & Sweden |
| 2018 | Expansion to Portugal |
| 2019 | 100.000+ meals produced per day |
| 2020 | Expansion to Spain |
| 2021 | Plaza Foods receives award DLG Jährlich Prämiert - long time quality award |
Our factory
[{"id":"348","name":"Plaza Foods B.V.","address":"Oostkanaaldijk 110-112","zipcode":"6534 AL ","city":"Nijmegen","telephone":"0031(0)24 747 00 12","email_address":"info@plazafoods.com","website":"http:\/\/www.plazafoods.com","other_information":null,"latitude":"51.8227559","longitude":"5.8125098","tooltip":"<div class=\"mx_locator_map_item\"> <strong>Plaza Foods B.V.<\/strong><br \/> Oostkanaaldijk 110-112 <br \/>6534 AL Nijmegen <br \/>0031(0)24 747 00 12 <br \/><a href=\"mailto:info@plazafoods.com\">info@plazafoods.com<\/a> <br \/><a href=\"http:\/\/www.plazafoods.com\" target=\"_blank\">http:\/\/www.plazafoods.com<\/a> <\/div>"},{"id":"350","name":"Plaza Foods B.V.","address":"Celsiusstraat 18","zipcode":"6604 CW","city":"Wijchen","telephone":"+31247470012","email_address":"info@plazafoods.com","website":null,"other_information":null,"latitude":"51.8185423","longitude":"5.7618674","tooltip":"<div class=\"mx_locator_map_item\"> <strong>Plaza Foods B.V.<\/strong><br \/> Celsiusstraat 18 <br \/>6604 CW Wijchen <br \/>+31247470012 <br \/><a href=\"mailto:info@plazafoods.com\">info@plazafoods.com<\/a> <\/div>"}]