Simple:
In today's crowded supermarkets with their thousands of products, we stand out by offering simplicity. Our products are easy to recognize, simple to prepare and simply delicious.
Authentic:
Authenticity is the key. Our focus is the content, not the packaging. We don't use complicated packaging, just a clear and simple package that shows our product. We want our customers to know what they are buying, that's our commitment to authenticity. Authenticity can mean different things to different people, but for us, authenticity means it is the true taste.
Enjoyable:
We pride ourselves in surpassing our customers' expectations. We aim to provide delicious meals that they can enjoy quickly and conveniently – and at the best possible price. Taste and convenience are crucial, but the product will only be enjoyable if customers really feel they have got their money's worth.
OUR HERITAGE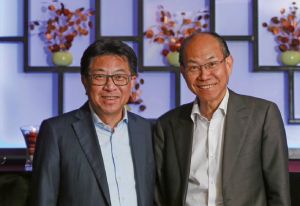 Plaza Foods was founded more then 25 years ago by the Chang brothers as a subsidiary of Europe's largest complex of Oriental restaurants: Orient Plaza. We are a family-owned company that specializes in Oriental cuisine. In 2005, we opened our state-of-the-art production facility in Wijchen, the Netherlands. Here we can implement the art of authentic cooking in a modern production environment that receives the highest level certificate of BRC and IFS every year. Hence, the result is a handmade product.

In 2006 we also added a range of Italian meals. Our years of experience in Oriental cuisine, combined with our experienced production and development team, has brought us many successes. In fact, today we are the largest producers of authentic ethnic foods in Northern Europe.
MILESTONES
| | | |
| --- | --- | --- |
| 2017 | | Expansion to France and Sweden |
| 2016 | | Our brand new state-of-the art production facility has opened |
| 2014 | | Expansion to Switzerland, Poland and Denmark |
| 2009 | | Expansion to the United Kingdom |
| 2007 | | Expansion to Germany |
| 2006 | | Italian range is added as a result of partnerships with Italian chefs |
| 2005 | | Our first state-of-the-art production facility opens in Wijchen |
| 1994 | | Launch of Plaza Foods – restaurant recipes are available for home consumption |
| 1989 | | Orient Plaza, Europe's largest Oriental restaurant, opens. |
| 1989 | | Orient Plaza Food & Services is established in Nijmegen, the Netherlands |
Our factory
[{"id":"348","name":"Plaza Foods B.V.","address":"Oostkanaaldijk 110-112","zipcode":"6534 AL ","city":"Nijmegen","telephone":"0031(0)24 747 00 12","email_address":"info@plazafoods.com","website":"http:\/\/www.plazafoods.com","other_information":null,"latitude":"51.8227559","longitude":"5.8125098","tooltip":"<div class=\"mx_locator_map_item\"> <strong>Plaza Foods B.V.<\/strong><br \/> Oostkanaaldijk 110-112 <br \/>6534 AL Nijmegen <br \/>0031(0)24 747 00 12 <br \/><a href=\"mailto:info@plazafoods.com\">info@plazafoods.com<\/a> <br \/><a href=\"http:\/\/www.plazafoods.com\" target=\"_blank\">http:\/\/www.plazafoods.com<\/a> <\/div>"},{"id":"350","name":"Plaza Foods B.V.","address":"Celciusstrat 18","zipcode":"6604 CW","city":"Wijchen","telephone":"+31247470012","email_address":"info@plazafoods.com","website":null,"other_information":null,"latitude":"51.8185423","longitude":"5.7618674","tooltip":"<div class=\"mx_locator_map_item\"> <strong>Plaza Foods B.V.<\/strong><br \/> Celciusstrat 18 <br \/>6604 CW Wijchen <br \/>+31247470012 <br \/><a href=\"mailto:info@plazafoods.com\">info@plazafoods.com<\/a> <\/div>"}]